Application procedure
Documents Required
The following documents need to be submitted during the application procedure:
Valid, filled-in and signed application form;
Certificate of education (school leaving qualification, high school diploma, document of graduation or any equivalent; university or college diploma/certificate or any equivalent);
Certificate or proof of citizenship and/or permanent residence;
Citizens, nationals, or permanent residents of the United States of America applying for the Medicine program of the University are required to submit their Medical College Admission Test (MCAT) results;
In the case of Applicants applying to any of the Non-Medical Programs whose first language is not English, proof of English language proficiency;
Short Resume/CV
Application fee of 150 USD (non-refundable)
Examination/Entrance fee of 350 USD (non-refundable)
You have to submit these documents through our online application platform here.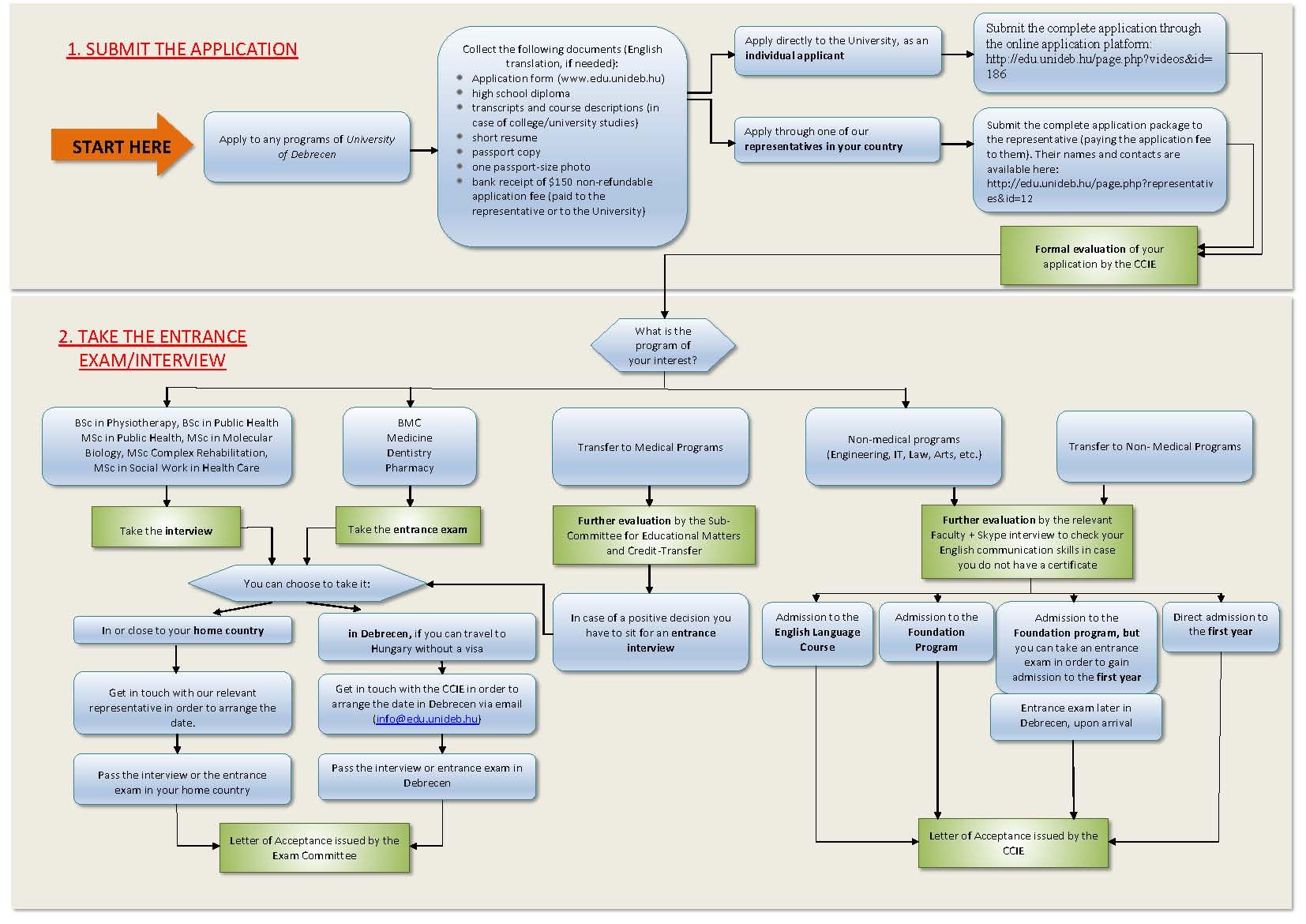 Please note that we cannot deal with incomplete applications – if any of the above-listed documents are missing we cannot proceed with your admission.
Students just about to complete their studies are required to send their transcript(s) to the Coordinating Center for International Education along with their final diplomas as soon as they receive it, and finally present the original document(s) during registration.
Please note that all requests concerning subject exemptions must be submitted at the time of the application (the declaration is included in the application form). Students must submit all available university transcripts and course descriptions along with other application documents; they will not be allowed to request exemptions later on.
NOTE: Document(s) certifying the highest completed level of education along with the passport of the applicant should be scanned and sent to one of the representatives of the Coordinating Center for International Education, however the originals of the aforementioned documents should be presented during the oral entrance examination or University registration the latest.
For transfer students
Detailed transcript and descriptions of courses, on the basis of which the admission committee may decide what level the student may be admitted to.
Special requirements for applications to the non-medical programs of the University of Debrecen
Master programs:
Detailed CV
Bachelor degree
Detailed transcript and descriptions of courses taken during undergraduate studies
PhD applicants:
Detailed CV
Master Degree
Detailed transcript of courses taken during graduate studies
2 recommendation letters from former professors
Proposal for a research topic chosen from those offered by the doctoral school, or a new topic with a detailed description
If the applicant meets the entry requirements, the University will inform him/her about all necessary steps in due time.




Application Deadlines
for September intake:

Medical, health science and non-medical PhD programs: 31st May
other non-medical programs: 15th June

for January/February intake:

non-medical PhD programs: 31st October
medical programs (BMCII): 30th November
other non-medical programs: 15th November

For the Summer English Language Course: 30th April