Medical degree programs
The University of Debrecen is one of Central Europe's top educational institutions (est. 1538) and offers a wide range of internationally recognized academic courses in Medical, Business, IT, and Agricultural programs among many others to its 28,000 students - 6,300 of which are foreign students from 120 countries!
Debrecen is a charming and fast-growing town of around 200,000 habitants in the heart of Europe with an international airport as well as train connections and direct highways to other European cities like Vienna, Krakow or Prague.
We are proud to be the only University in the region that is certified to organize the MCCQE1 Preparatory Course, held each summer at the University of Debrecen. Our campus is home to the largest teaching hospitals in Hungary with more than 2,900 beds - ensuring that students graduating from hear have first-hand practical experiences besides the strong theoretical knowledge.
Why choose us:
28,000 students – 6,300 international students

14 faculties on 7 campuses, including one of the most beautiful in Europe, since 1538

Internationally recognized medical programs
We offer medical programs with worldwide accreditation, including
the World Health Organization,
the New York State Education Department,
the Medical Board of California
and the Medical Councils of Israel, Ireland, Iran and Norway.
Check some more detailed information about our Medical Programs below!
Medical Programs
Other medical programs
Bachelor level:
Master level: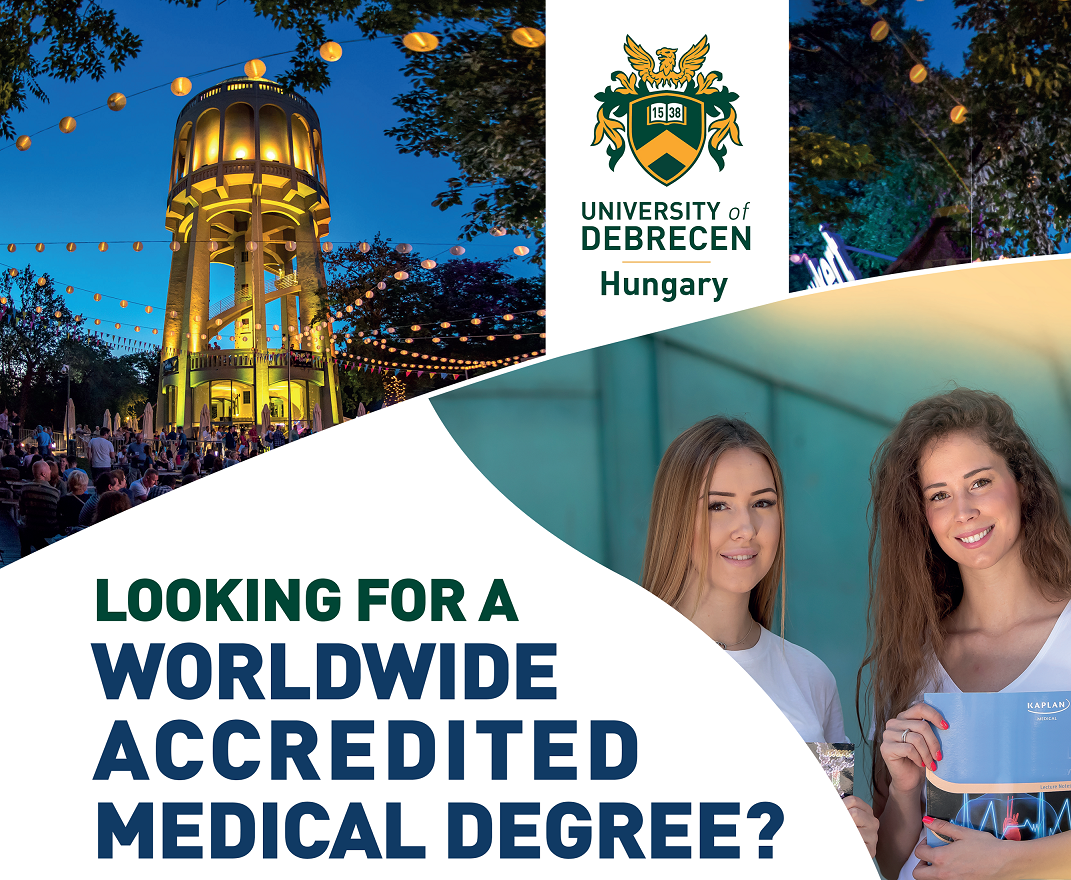 "Studying at the University of Debrecen is much more than acquiring knowledge. Just during my first year I already made life-long friendships, got to play handball with the Medical faculty team and was able to experience research first-hand. The facilities are well equipped to fully deliver the lectures and practices which makes learning easier and straight foward. The community life and the support from the senior students are also a strong point at the university. I couldn't have chosen a better university to study at."
Felipe Salignac Brasil
Medicine
Brazil
Faculty of Medicine
"Teachers and staff at the Faculty of Dentistry are very experienced, humble, f riendly and they are keen on sharing their knowledge, give students practical advice and talk to students like a friend. What I appreciate most about the faculty is that we went through the most fundamental subjects of dentistry in the first two years, which lays a solid foundation for the senior year's more intense clinical studies. What's more we have been able to attend a fair amount of lab classes since 1st year which has greatly enriched my hands-on experience and sharpened my manual techniques. I enjoy studying at the University of Debrecen not only because of its high academic reputation in Europe but also because of the strict and highstandard exam system and the tight connection between theoretical knowledge and clinical practices. These things have gradually enabled me to become a responsible dentist and equipped me with abilities of critical thinking, independent study and cooperation with fellows, which are significant in my future career."
Huang Zhishan
Dentistry
China
Faculty of Dentistry

"I chose the University of Debrecen because I think it's one of the best universities in Europe. Before I came to this university, I checked out many others in Europe, but I wanted a program that could push me and help me move to the next level. I felt like UD is the best fit for what I want to accomplish. The opportunities offered at the University of Debrecen, Faculty of Pharmacy were really above and beyond anything else that I had seen before. The beautiful campus, top-notch professors and great facilities in laboratories are some of the best things about this university. I'm really glad that I'm studying here!"
Sepahizia Sina
Pharmacy
Iran
Faculty of Pharmacy
What international higher education rankings say about us?
37th QS Emerging Europe and Central Asia Rankings
151-200th THE Europe Teaching Rankings
601-650th QS Word University Rankings

More information:
For
Accommodation
options please click
here
!
For actual
cost of living
please click
here
!
For
Application and Admission process
please click
here
!