The uDEsia award was established by the Senate of the University of Debrecen to recognise the achievements of scientists who have already received a Nobel or an equivalent prize and are cooperating with the researchers and research communities of the university in any field of science researched at the university, and who are prepared to contribute to improving the scientific work and results of UD as members of the Scientific Advisory Board. The nominee should also be willing to provide classes at UD to students attending an undergraduate or postgraduate course.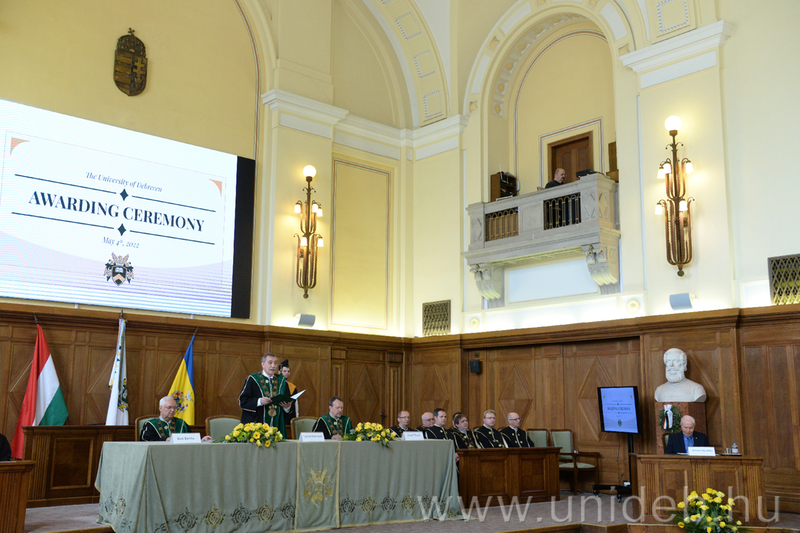 Avram Hershko, the Israel-based biochemist of Hungarian origin, professor of the University of Haifa received the award from the vice rector for scientific award of UD on Wednesday.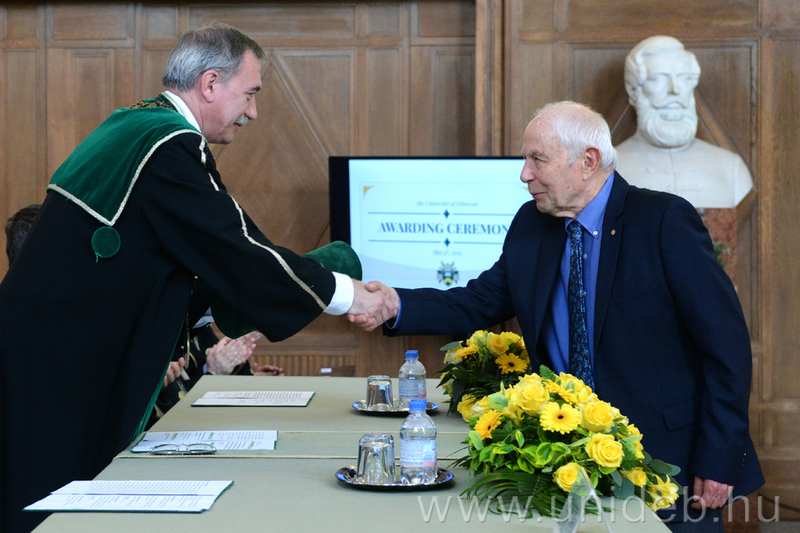 At the award-giving ceremony József Tőzsér, acting vice rector for sectoral development in life sciences described the career of the Nobel-laureate researcher. Avram Hershko, professor of the Israel Institute of Technology Rappaport Family in Haifa and pathology professor of the New York University won the Nobel-prize together with American Irwin Rose and Israeli Aaron Ciechanover for describing the biochemical mechanisms through which ubiquitin molecules separate the protein molecules to be destroyed, which is followed by the decomposition of proteins that are no longer needed by the cells. The regulatory protein ubiquitin can be used in the treatment of various inflammatory diseases, and may also play a central role in the treatment of bone marrow cancer, Alzheimer's disease  and Parkinson's disease.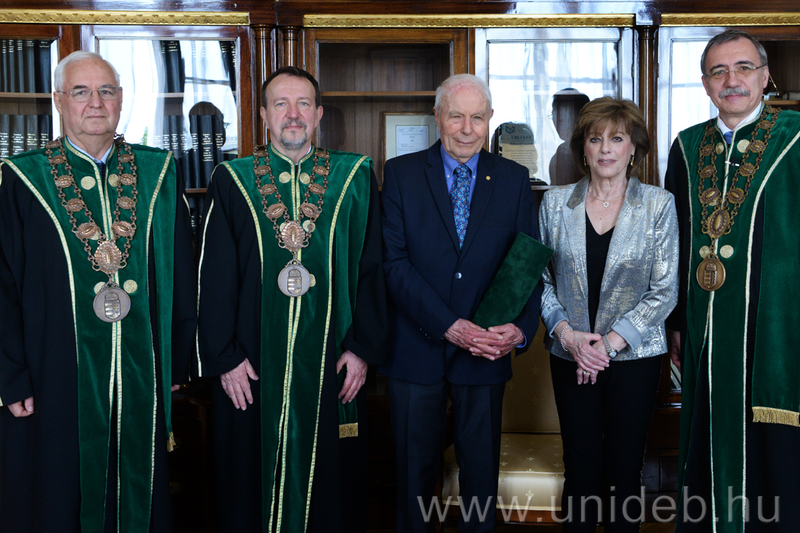 The day before the ceremony the renowned chemist gave a lecture entitled "The role of the ubiquitin system in health and disease" to teachers and students of UD at the Life Sciences building.
Avram Hershko told hirek.unideb.hu that owing to this recognition he was willing to work more closely with the University of Debrecen.


- The University of Debrecen is one of the most significant universities in Hungary, with growing presence on the European scene as well. This award is a great honour to me. It is important that scientists share their results and experience with the researchers of UD. For this reason, I am in close contact with the university. The number of Israeli students at UD is continuously growing, and I believe that this award may broaden cooperation between the University of Haifa and UD. Working as a researcher is a very exciting profession that allows us to explore the secrets of nature. Young researchers should be able to feel that through their scientific activities they can make the world a better place – explained Avram Hershko.

László Csernoch, vice rector for scientific affairs of UD emphasized that it was important to broaden the community of researchers recognised by UD with reputable scientist and Nobel-laureates,  as they can enhance the international recognition of the university.

- The involvement of professor Hershko will certainly raise the level of biochemical research conducted at UD. The university will cooperate with the professor's laboratory, which  may lead to great scientific achievements in the future – said vice rector Csernoch.

The award was established in 2019 and has been granted to two Nobel laureates so far: Stefan Hell German physicist , director of the Max Planck Institute for Biophysical Chemistry in Gottingen, and Ariah Warshel Israeli-American biochemist, member of the National Academy of Sciences (US) and the Royal Society of Chemistry (UK), honorary doctor of the Uppsala University (Sweden).

Press Office - BZ