This time oDEon, the university theatre, let international students entertain the audience: following in the footsteps of university theatres in the US, oDEon adapted Hair, the famous Broadway musical, which was performed by a company of international students of UD on 7 May. The 13 actors who performed the musical to a crowded audience represented 13 nations.


After the performance, Veronika Végh, head of the university theatre oDEon, said that the young actors had achieved great success with their joyful and passionate performance – they created a global theatre in Debrecen.

- I am very proud of them. They were fantastic. Responding to the suggestion of the chancellor of UD, we were willing to involve more international students in the theatre work – and now the audience could see the result on stage. I was fascinated by the performance of these young people. It was the first time they had stood on stage, but no one could notice this. We had prepared for the play for two months, and it was enough for them to create something that deserved a standing ovation. Director Szabolcs Csáki brought the most out of the young actors, who had not even known each other three months before the performance. This performance reinforced our belief that theatre is mainly about community, and the vibe that brings us closer to each other – said Veronika Végh.


Zoltán Bács, Chancellor of the University of Debrecen, emphasized that the audience had been presented with a professional performance, which was unique in several ways.

- The theatre was established three years ago. If it had not been for the pandemic, we could have seen the play earlier, as the involvement of international students in the work of the theatre had already been among the plans of the theatre. Following a long selection process, the time has finally come, and the result speaks for itself. I was not surprised at all by the talent of these young people, as our students have repeatedly achieved success on yoUDays. Yet again, UD has demonstrated that besides education, there are other spaces for building communities that allow young people to bloom and build relationships – explained Chancellor Bács.


At the Saturday night event a new 60sqm LED wall was introduced, which will also serve presentation and educational purposes in the future. To add to the theatrical experience, animations and the Hungarian subtitle of the English-language performance were displayed on the huge LED wall.

- This display will be a fixture of the theatre, and will be of great help for teachers by offering a very useful and highly visible surface that is ideal for the purposes of education and conferences as well. Of course, the LED wall will be used to add to the visual experience of theatrical performances as well – added Chancellor Bács.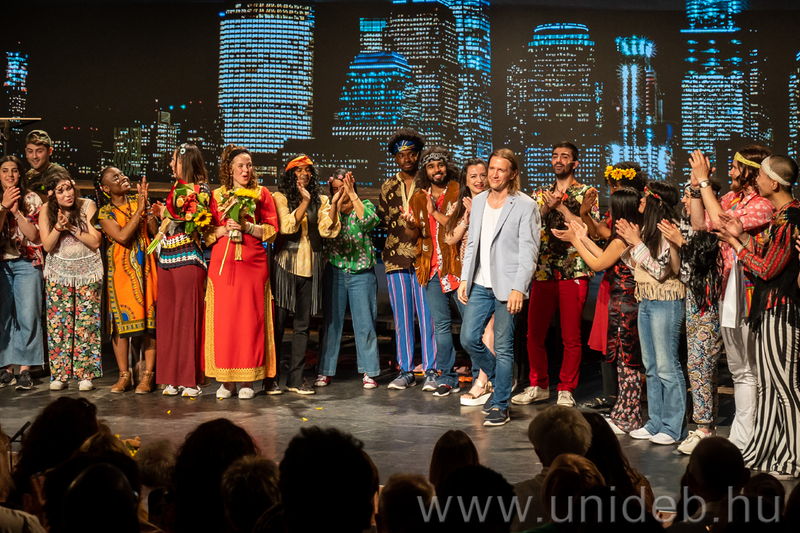 The debut of the young company was convincing. The spectacular and colourful costumes, reflecting the message of Hair, dynamic acting, and excellent voices were key to the success of the performance. It was certainly not the last time that this performance and this company had appeared on the stage of the oDEon Theatre.

Press Centre - BZ