During the three-day visit of the delegation of the Hungarian Rectors' Conference to Uzbekistan members of the Hungarian delegation had talks at Tashkent University of Irrigation and Agricultural Automation Engineering, Samarkand State University and in Bukhara with the Minister of Higher Education, Deputy Minister of Foreign Affairs, Minister of Energy, Education and Science and representatives of the universities of the region. The talks addressed the issues of the participation of Uzbek students in the Stipendicum Hungaricum scholarship program and the reform of Uzbek higher education.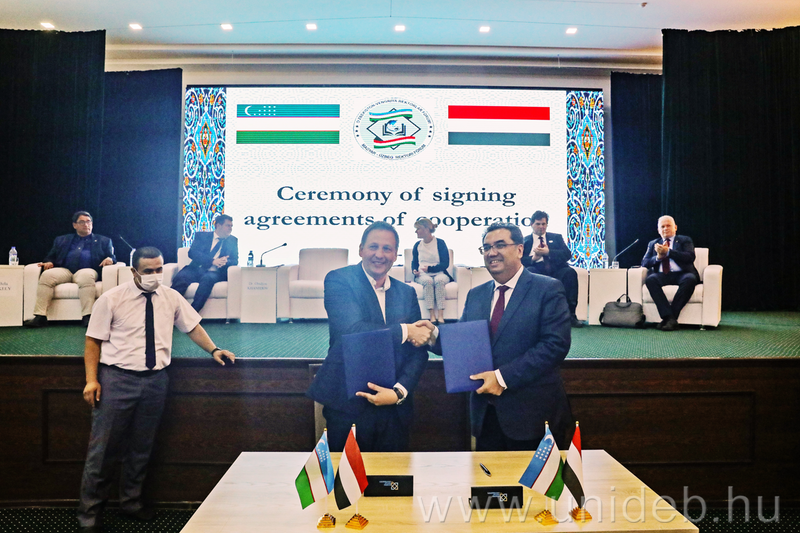 - A higher education credit system is currently being introduced in Uzbekistan. The most important part of the renewal of their training system is the integration of education, research and industry, and the close cooperation between industry and universities. Uzbekistan aims to make its universities visible internationally and to expand its higher education relations abroad. I would like to incorporate the experience of the Hungarian practical training system into their higher education, which is in the process of transformation. Their plans include organizing joint professional and student exchange programs, as well as providing scholarships for Hungarian and Uzbek students, Endre Harsányi , Deputy Rector of the University of Debrecen, told hirek.unideb.hu.
During the Samarkand Forum, the state university signed 7 letters of intent with 6 Hungarian universities, including the University of Debrecen.
- The primary area of Hungarian-Uzbek bilateral educational and economic co-operation is the transfer of knowledge in agriculture and water management, as well as the fields of medicine, architecture and civil engineering, technical management and finance. The two countries are planning to expand relations between their higher education institutions and the University of Debrecen wants to be an active part of this process. We want to cooperate in research and development projects, in the organization of courses and programs, in the joint publication of scientific and educational materials, and in the development of exchange programs for teachers and students, Endre Harsányi explained.
Press Office