As many as 75 of a total of 85 volumes in the groundbreaking series, issued only in small circulation numbers and highly acclaimed by historians, have arrived in the institute from German publishers in three separate installments since December last year.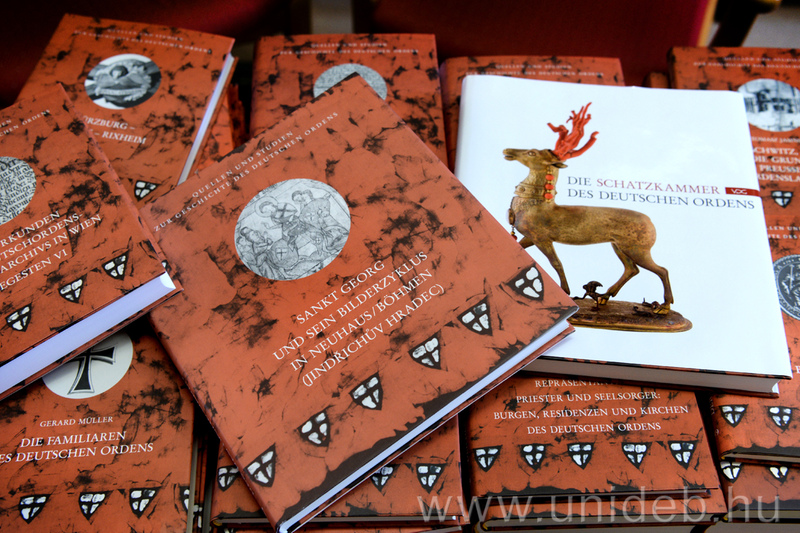 Professor László Pósán from the Institute of History, Faculty of Humanities, UD, shared the following insights in his presentation of the series: The Teutonic Order, which had an important role in Europe in the Middle Ages, also played an active part in the history of Hungary. For example, it was King Andrew II of Hungary, who had invited them to settle in Transylvania but, due to their consequent efforts to achieve independence and expand the territories previously granted to them, he also expelled them later. Then, during the reign of King Sigismund, the members of the order participated in the defense of the southern borders of Hungary. They also took part in driving out the Turks, following which Emperor Leopold, King of Hungary, appointed the Grand Master of the Teutonic Order to be the Governor of Hungary. The series, which are made up of largely German and, to a lesser extent, English and French monographs, studies, compilations of sources, publications on the history of arts, analyses and albums, also discuss these events.

The actual publication of the series was originally initiated by the German historian Udo Arnold, who currently serves as the honorary president of the International Historical Commission for the research about the Teutonic Order (Internationale Historische Kommission zur Erforschung des Deutschen Ordens). A significant part in implementing the donation and reception of the volumes has been played by László Pósán, who is the single Hungarian member of this organization, and who maintains good working relationships with several authors of the series.
"Up until now, quite a few of these volumes in Hungary have been available only in the library of Magyar Tudományos Akadémia [Hungarian Academy of Sciences]," said Professor  Pósán. He also expressed his hopes about a potential chance in the future of getting ahold of the early pieces of the series that are still missing from our collection.
Róbert Barta, Director of the Institute of History, Faculty of Humanities, UD, added that it was always the intention of the University of Debrecen to strengthen its international relations.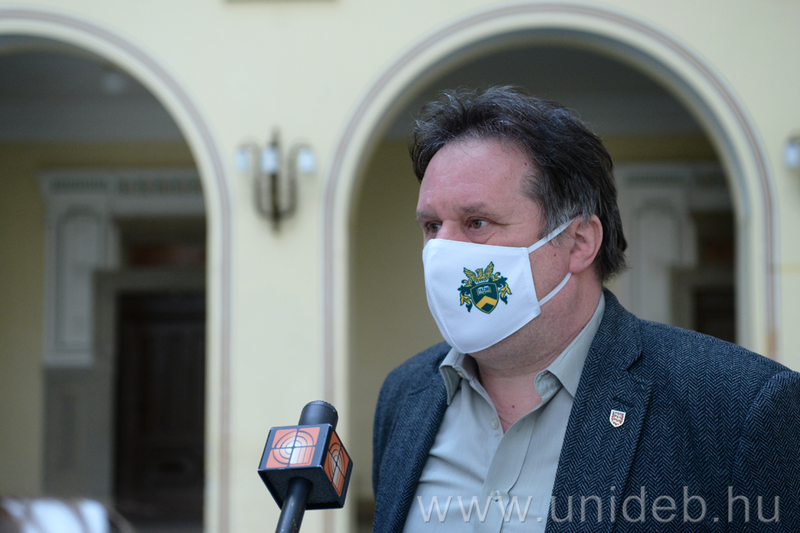 "As a manifestation of our efforts to continue to achieve this, the Institute of History has established exemplary channels of academic cooperation not only with the universities in the neighboring countries but also with other institutions of higher education in the rest of Europe. The present book donation project fits very neatly into our strategy, too," he said.
As regards additional interest in the books from researchers at other Hungarian universities, we have already received several indications of such curiosity concerning the willingness to study these resources as soon as the restrictions due to the pandemic begin to ease and start to be lifted. 
Press Office