"Some people think that the meaning of talent management primarily means the act of finding talents, but this is not true, since the genuine task is to both find the talent and develop it," said László Csernoch in his welcome speech.

The Vice-Rector for Academic Affairs of the University of Debrecen (UD) and the Chairman of the Talent Council of UD emphasized that talents and their nurturing should also mean that each person gets a chance to display and prove their aptitude and competence in different fields, which can only be realized if we create an opportunity for our students to create and prove themselves.

"Their academic career, however, can only be successful if they find those with whom they can work together to achieve results. Those who participate in the university's scholarly-scientific conference, delivering presentations as students today may also cooperate as researchers someday in the future, as this is the way for academic activities to move forward," László Csernoch.

In her address, Katalin Siska, Chair of UD's College Subcommittee, quoted the poet Gyula Juhász's idea about how, although Galileo Galilei was convicted at one point in time, the Earth still continued to move by revolving around its axis.
"If we work together and show each other the best of our knowledge, we can find miracles in all areas of science and scholarship," said Katalin Siska.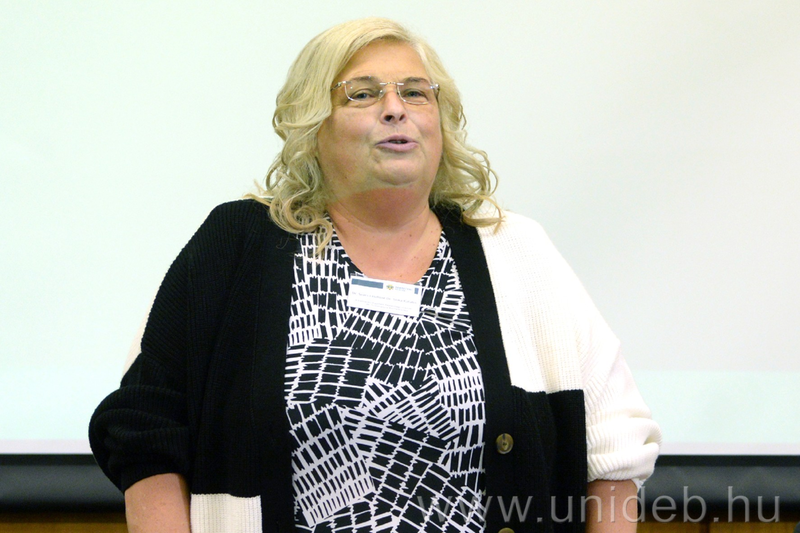 The lectures prepared to be presented at the conference covered seven different disciplines (agricultural sciences, humanities, engineering, arts, medical and health sciences, social sciences and natural sciences).

The topics and the thematic range of the presentations were very diverse indeed. In addition to the classic areas of research, including toponyms or place names, the belated speech development of preschool children, the basics of singing technique or the criminalization of persons under guardianship, an array of curiosities, novelties and topicalities were also discussed, such as the right to self-defense in the case of drone use, the culture of rock music, the impact of mixed marriages on Roma identity, the comparison of the motivations of athletes and e-athletes, or even LGBTQ  tolerance and the link between the level of economic development in Europe.

The list of colleges for advanced studies present at the conference included the following institutions (with some of the specifications added in between angular brackets):

Bán Imre Kultúratudományi Szakkollégium [Cultural Sciences]
Gulyás György Szakkollégium
Hatvani István Szakkollégium
Hajós György Adattudományi Szakkollégium [Data Science]
Ihrig Károly Szakkollégium
Kerpely Kálmán Szakkollégium
Lippai Balázs Roma Szakkollégium [Roma Studies]
Nyirkos István Sporttudományi Szakkollégium [Sports Sciences]
Praetor Szakkollégium
Sántha Kálmán Szakkollégium
Szent László Katolikus Szakkollégium [Catholic Studies]
Tormay Béla Szakkollégium
Verzár Frigyes Szakkollégium
Wáli István Református Cigány Szakkollégium [Reformed Protestant Gypsy Studies]

Press Center - BZs