Experts discussed the current challenges of migration at a conference held on 26 November at the University of Debrecen.
The labour market situation, the flows of refugees over the past centuries, and trends in emigration and immigration were all addressed at the full day conference organized at the University of Debrecen, which, as
Klára Papp
Dean of the Faculty of Humanities, which organised the conference, said, had been made possible with the co-operation of five faculties.
- It was the Government's request to the larger universities to address the migration issue, reflecting current developments. The conference, entitled "Refugees, migrants and those seeking a new home" dealt with the problem at an academic level, also presenting the reasons for the movement of peoples in a historical perspective -
Zoltan Szilvássy
emphasized in his opening address.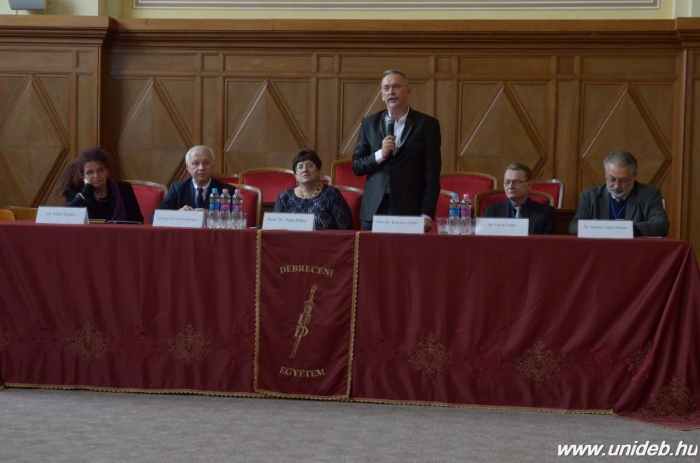 In his opening lecture
Daniel Lopez-Acuna
, professor at the Andalusian School of Public Health and former director of WHO, pointed out that 60 million people had left their homes in one calendar year by the end of 2014.
- The top three sending countries for refugees are Syria, Afghanistan and Somalia. In 2015 over 650 thousand people arrived in Greece by sea alone, noted Daniel Lopez-Acuna.
Sergei Vasilievich Surigin
, deputy director of the Ruszkij Mir Foundation gave a lecture entitled "Migration problems in today's Russia" and informed the audience that the majority of migrants coming to Russia are from China and looking for employment; currently ten million foreign workers are employed in the country.
Agnes Hars
, senior researcher at Kopint-Tárki Zrt. noted in relation to the effects of migration on the labour market that those arriving from foreign countries were less successful on the labour market than the resident population.
Referring to the European experiences of the integration of immigrants,
Agnes Hars
said that refugees begin to catch up after five years and to integrate after ten.
In the spring of next year the organizers will also publish a volume of the proceedings of the conference which dealt both with trends in migration and the various waves of migration from the early modern period through to today.
Press Office