The Institute of Food technology of the Faculty of Agriculture of the University of Debrecen was represented by students Ayaz Mukarram Shaikh and Roshni Ashok Kadam, graduates majoring in Food Safety and Quality Engineering, at Health Venture Competition of the European Institute of Innovation and Technology held during the weekend in Budapest. The objective of the three-day event was to expand the entrepreneurial knowledge of young people in order to assist them to launch their own startup ventures.
In the framework of the series, the first part comprised a training session for the more than forty participants, where Neil Sheridan, one of the most highly acclaimed startup corporate consultants in the United States of America, and several other experts gave them lectures and presentations. Following this, seven teams were formed that had the opportunity to present their ideas and innovative pitches in the final competition to the international jury made up of the representatives of the sponsors (GE, Venture Lab, University of Debrecen, E-Group, University of Groningen, University of Pécs, Semmelweis University, Uppsala Innovation Centre, and University of Uppsala).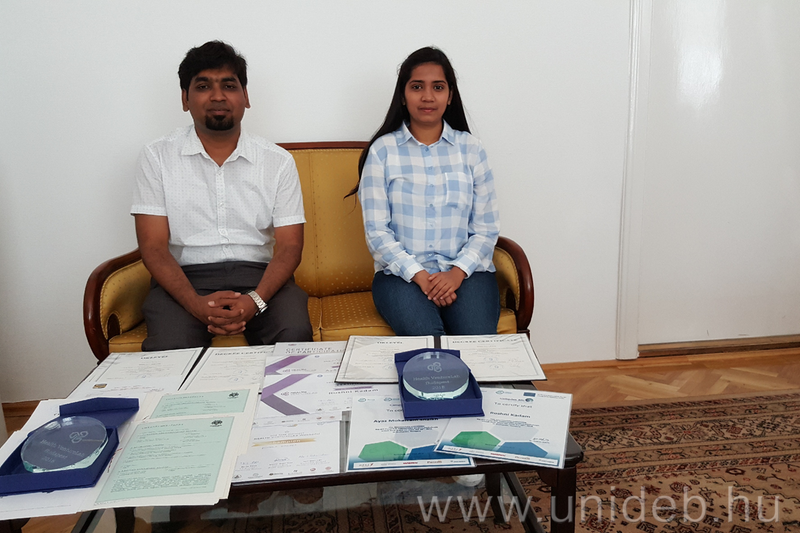 The millets (cereal) based line of products named "Mrida" and the relevant startup business plan prepared by Ayaz Mukarram Shaikh and Roshni Ashok Kadam won the gold medal awarded by the jury and also the attention of potential circles of investors, which means that the business incubation of their enterprise may be launched in the near future. The two students were also invited to the 52-hour training course called Health Venture Budapest, while the product line concept "Mrida" and the startup business plan was recommended by the jury to enter the EIT world competition.
Press Office