First in the row of events will be the ceremony of the Faculty of General Medicine in the cour d'honneur  of the Main Building of the university  on Friday, June 15.
It has been a tradition for years at the University of Debrcen for all faculties to organise their graduation ceremonies in the main/central building . The only exception to this is the  Faculty of Music, where the Liszt room sends the students off with  concerts.
In terms of the number of gradutes the most populous one is the Faculty of Humanities, with over 600 students, but about 300 students get their degrees at the Faculty of Sciences and the Faculty of Child education and Special Education,too.
This week end will see the first graduation ceremony where 106 medical students will receive their medical degrees from László Csernoch, Vice- Rector for Academic Affairs and Dean László Mátyus in the cour d'honneur of the Main Building  in a ceremony starting at 11 o'clock on Friday, June 15.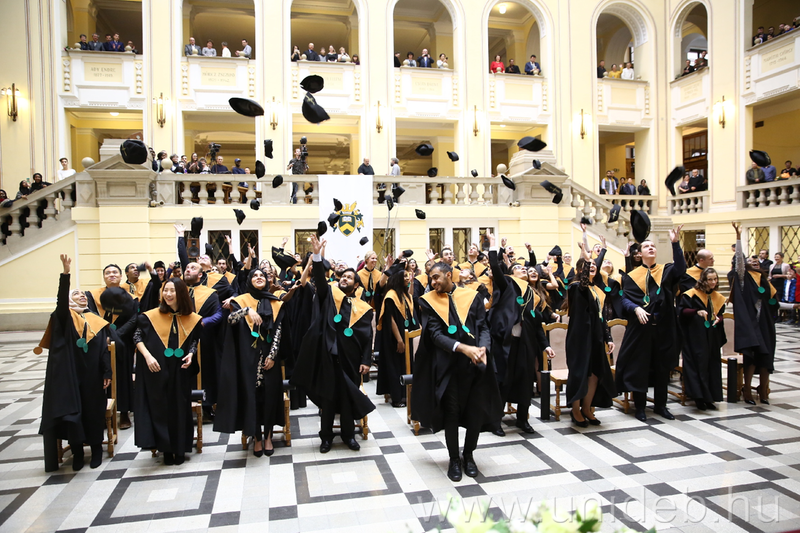 The graduation ceremony of the Faculty of Agricultural and Food Sciences and Environmental Management starts at 10 o'clock on Saturday , where 150 fresh graduates receive their degrees, while the ceremony of the Faculty of Music combined with a festive concert is scheduled for 14.00 June 16, Saturday.  As always, the venue is the Liszt Room, where the Vice Rector for Academic Affairs along with Dean Péter Lakatos, send off their graduates.
The ceremonies, with the exception of that of the Faculty of Music, will be live-streamed by the Multimedia and E-Learning Technical Centre of the University at unideb.hu.
The "Baby room" on the ground floor of the Main Building  will be open at all times during the ceremonies , where members of the Lelkierő Egyesület help in caring for the youngest children.
For the schedule of the graduation ceremonies click here.
Press Office