With the support of an EU grant, four Hungarian higher education institutions have developed teaching materials and created a foodstuffs research centre under the leadership of Debrecen University.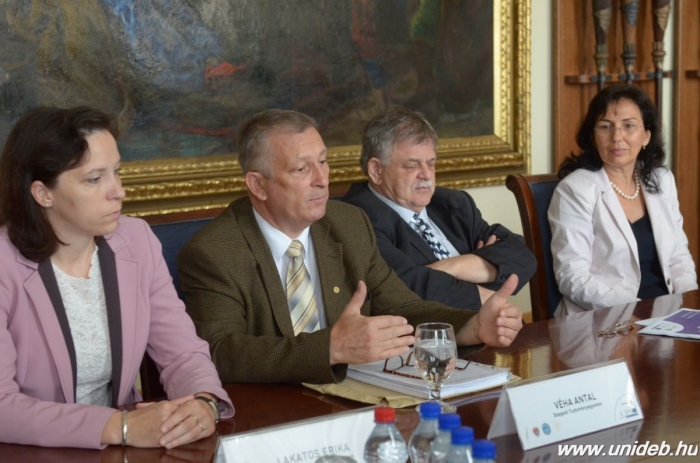 More than 70 conferences, workshops and field research initiatives, 319 sets of study materials, 75 foreign study trips, and 48 new and retained workplaces – these are the statistics behind the 1.6 billion Forint project carried out between April 2013 and June 2015, reported
András Jávor
, deputy rector, in the closing press conference held on Tuesday at Debrecen University.
The University Cooperation Project for Food Safety and Gastronomy saw close cooperation in the field of food safety between Debrecen University, Szeged University, the Károly Eszterházy College and the University of Western Hungary.
The project established the Food Research, Marketing and Service Centre which supports the work of the food products cluster with its 80 members and 400 billion Forints worth of products. The cooperation between the four institutions already extends to mutual recognition of credits awarded by each, allowing students to move between them freely. A quality control centre has been established, which focuses on activities related to hospitality services, tourism and gastronomy.
- The project creates a good opportunity for the development of teaching materials and of the organisation itself, and to achieve a mutual recognition of the courses we offer and to provide joint internships for students. With the study visits we mainly sought out those Asian countries which had shown serious interest in our university – emphasised
Antal Véha
, professor at Szeged University.
According to
Ilona Tai Pajtók
, deputy rector at the Káróly Eszterházy College, the most important achievement of the grant project has been the food safety developments which are particularly important for tourism, gastronomy and viticulture in Eger. At their institute a database to link the technology transfer office and the workplace training centre has also been established, and the project has also seen special courses offered, as well as forums for the general public, open days and specialist exhibitions.
Erika Lakatos
, lecturer at the University of Western Hungary, considered that an important value of the project was that it had allowed links to be developed with Western European universities as well as French, English, German and Scottish businesses, and so in the future these could also provide locations for students' workplacements.
Further pictures of the event can be seen in the
photoalbum.
Press Office