During their stay, the visitors had a chance to take part in a conference on education in addition to attending lectures and participating in workshop sessions.
There are six countries and fourteen institutional partners among the participants of the program called "Promoting Excellence in Teaching and Learning in Azerbaijani Universities" (PETRA), the objective of which is to improve the quality of education at nine universities in Azerbaijan.
A basic activity in the project involves the preparation of teaching material and case studies covering four major topics in the form of e-learning material packages for instructors employed in higher education: learning and teaching methodology, ICT applications, quality and efficiency, and student and faculty mobilities in higher education. Related to these, the partners participate in mobility programs, during the course of which they explore and study higher education practices in these four areas, while experts from Europe get to know universities in Azerbaijan, where they jointly discuss and design development possibilities.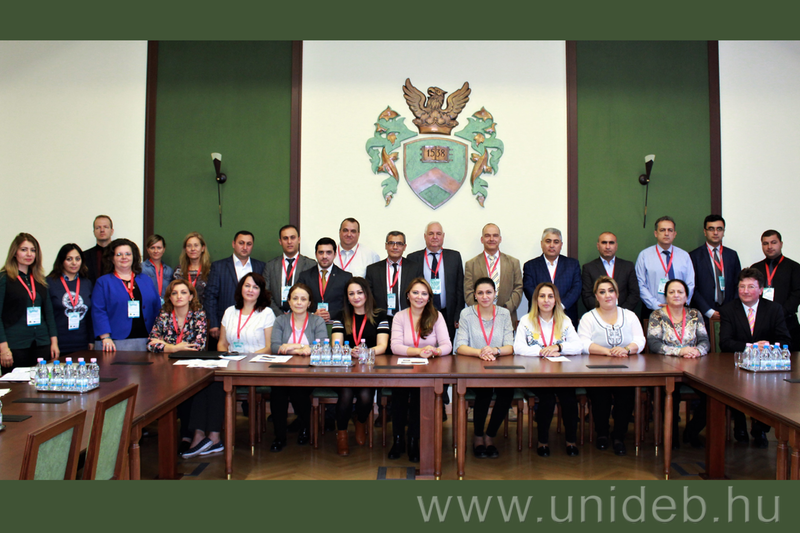 As a part of the program, a delegation of 23 people came to visit the University of Debrecen on Monday, October 16th. The majority of the delegates were from Azerbaijan, but there were also some Spaniards and Finns among the members of the group. The institutions were represented by four vice-rectors, four deans, several heads of international offices, directors of institutes, and heads of departments. The visit ended on October 20th, by which date the members of the international delegation had taken part in a conference, attended lectures and conducted seminars in workshops.
In addition to nine universities in Azerbaijan, one university from each of the five European partner states (Austria, Finland, Hungary, Spain, and Turkey) are involved in the cooperation. Hungary is represented by the University of Debrecen, while the coordination of the project is taken care of by the Faculty of Arts, Institute of Educational Studies and Cultural Management.
<!{sql_minus_minus}[if gte mso 9]>




<![endif]{sql_minus_minus}>
<!{sql_minus_minus}[if gte mso 9]>


Normal
0


21


false
false
false

HU
X-NONE
X-NONE
























<![endif]{sql_minus_minus}>
<!{sql_minus_minus}[if gte mso 9]>

DefSemiHidden="false" DefQFormat="false" DefPriority="99"
LatentStyleCount="371">


UnhideWhenUsed="true" QFormat="true" Name="heading 2"/>
UnhideWhenUsed="true" QFormat="true" Name="heading 3"/>
UnhideWhenUsed="true" QFormat="true" Name="heading 4"/>
UnhideWhenUsed="true" QFormat="true" Name="heading 5"/>
UnhideWhenUsed="true" QFormat="true" Name="heading 6"/>
UnhideWhenUsed="true" QFormat="true" Name="heading 7"/>
UnhideWhenUsed="true" QFormat="true" Name="heading 8"/>
UnhideWhenUsed="true" QFormat="true" Name="heading 9"/>
Name="index 1"/>
Name="index 2"/>
Name="index 3"/>
Name="index 4"/>
Name="index 5"/>
Name="index 6"/>
Name="index 7"/>
Name="index 8"/>
Name="index 9"/>
UnhideWhenUsed="true" Name="toc 1"/>
UnhideWhenUsed="true" Name="toc 2"/>
UnhideWhenUsed="true" Name="toc 3"/>
UnhideWhenUsed="true" Name="toc 4"/>
UnhideWhenUsed="true" Name="toc 5"/>
UnhideWhenUsed="true" Name="toc 6"/>
UnhideWhenUsed="true" Name="toc 7"/>
UnhideWhenUsed="true" Name="toc 8"/>
UnhideWhenUsed="true" Name="toc 9"/>
Name="Normal Indent"/>
Name="footnote text"/>
Name="annotation text"/>
Name="header"/>
Name="footer"/>
Name="index heading"/>
UnhideWhenUsed="true" QFormat="true" Name="caption"/>
Name="table of figures"/>
Name="envelope address"/>
Name="envelope return"/>
Name="footnote reference"/>
Name="annotation reference"/>
Name="line number"/>
Name="page number"/>
Name="endnote reference"/>
Name="endnote text"/>
Name="table of authorities"/>
Name="macro"/>
Name="toa heading"/>
Name="List"/>
Name="List Bullet"/>
Name="List Number"/>
Name="List 2"/>
Name="List 3"/>
Name="List 4"/>
Name="List 5"/>
Name="List Bullet 2"/>
Name="List Bullet 3"/>
Name="List Bullet 4"/>
Name="List Bullet 5"/>
Name="List Number 2"/>
Name="List Number 3"/>
Name="List Number 4"/>
Name="List Number 5"/>

Name="Closing"/>
Name="Signature"/>
UnhideWhenUsed="true" Name="Default Paragraph Font"/>
Name="Body Text"/>
Name="Body Text Indent"/>
Name="List Continue"/>
Name="List Continue 2"/>
Name="List Continue 3"/>
Name="List Continue 4"/>
Name="List Continue 5"/>
Name="Message Header"/>

Name="Salutation"/>
Name="Date"/>
Name="Body Text First Indent"/>
Name="Body Text First Indent 2"/>
Name="Note Heading"/>
Name="Body Text 2"/>
Name="Body Text 3"/>
Name="Body Text Indent 2"/>
Name="Body Text Indent 3"/>
Name="Block Text"/>
Name="Hyperlink"/>
Name="FollowedHyperlink"/>


Name="Document Map"/>
Name="Plain Text"/>
Name="E-mail Signature"/>
Name="HTML Top of Form"/>
Name="HTML Bottom of Form"/>
Name="Normal (Web)"/>
Name="HTML Acronym"/>
Name="HTML Address"/>
Name="HTML Cite"/>
Name="HTML Code"/>
Name="HTML Definition"/>
Name="HTML Keyboard"/>
Name="HTML Preformatted"/>
Name="HTML Sample"/>
Name="HTML Typewriter"/>
Name="HTML Variable"/>
Name="Normal Table"/>
Name="annotation subject"/>
Name="No List"/>
Name="Outline List 1"/>
Name="Outline List 2"/>
Name="Outline List 3"/>
Name="Table Simple 1"/>
Name="Table Simple 2"/>
Name="Table Simple 3"/>
Name="Table Classic 1"/>
Name="Table Classic 2"/>
Name="Table Classic 3"/>
Name="Table Classic 4"/>
Name="Table Colorful 1"/>
Name="Table Colorful 2"/>
Name="Table Colorful 3"/>
Name="Table Columns 1"/>
Name="Table Columns 2"/>
Name="Table Columns 3"/>
Name="Table Columns 4"/>
Name="Table Columns 5"/>
Name="Table Grid 1"/>
Name="Table Grid 2"/>
Name="Table Grid 3"/>
Name="Table Grid 4"/>
Name="Table Grid 5"/>
Name="Table Grid 6"/>
Name="Table Grid 7"/>
Name="Table Grid 8"/>
Name="Table List 1"/>
Name="Table List 2"/>
Name="Table List 3"/>
Name="Table List 4"/>
Name="Table List 5"/>
Name="Table List 6"/>
Name="Table List 7"/>
Name="Table List 8"/>
Name="Table 3D effects 1"/>
Name="Table 3D effects 2"/>
Name="Table 3D effects 3"/>
Name="Table Contemporary"/>
Name="Table Elegant"/>
Name="Table Professional"/>
Name="Table Subtle 1"/>
Name="Table Subtle 2"/>
Name="Table Web 1"/>
Name="Table Web 2"/>
Name="Table Web 3"/>
Name="Balloon Text"/>

Name="Table Theme"/>























Name="List Paragraph"/>

Name="Intense Quote"/>














































































Name="Subtle Emphasis"/>
Name="Intense Emphasis"/>
Name="Subtle Reference"/>
Name="Intense Reference"/>

UnhideWhenUsed="true" Name="Bibliography"/>
UnhideWhenUsed="true" QFormat="true" Name="TOC Heading"/>













Name="Grid Table 1 Light Accent 1"/>




Name="Grid Table 6 Colorful Accent 1"/>
Name="Grid Table 7 Colorful Accent 1"/>
Name="Grid Table 1 Light Accent 2"/>




Name="Grid Table 6 Colorful Accent 2"/>
Name="Grid Table 7 Colorful Accent 2"/>
Name="Grid Table 1 Light Accent 3"/>




Name="Grid Table 6 Colorful Accent 3"/>
Name="Grid Table 7 Colorful Accent 3"/>
Name="Grid Table 1 Light Accent 4"/>




Name="Grid Table 6 Colorful Accent 4"/>
Name="Grid Table 7 Colorful Accent 4"/>
Name="Grid Table 1 Light Accent 5"/>




Name="Grid Table 6 Colorful Accent 5"/>
Name="Grid Table 7 Colorful Accent 5"/>
Name="Grid Table 1 Light Accent 6"/>




Name="Grid Table 6 Colorful Accent 6"/>
Name="Grid Table 7 Colorful Accent 6"/>







Name="List Table 1 Light Accent 1"/>




Name="List Table 6 Colorful Accent 1"/>
Name="List Table 7 Colorful Accent 1"/>
Name="List Table 1 Light Accent 2"/>




Name="List Table 6 Colorful Accent 2"/>
Name="List Table 7 Colorful Accent 2"/>
Name="List Table 1 Light Accent 3"/>




Name="List Table 6 Colorful Accent 3"/>
Name="List Table 7 Colorful Accent 3"/>
Name="List Table 1 Light Accent 4"/>




Name="List Table 6 Colorful Accent 4"/>
Name="List Table 7 Colorful Accent 4"/>
Name="List Table 1 Light Accent 5"/>




Name="List Table 6 Colorful Accent 5"/>
Name="List Table 7 Colorful Accent 5"/>
Name="List Table 1 Light Accent 6"/>




Name="List Table 6 Colorful Accent 6"/>
Name="List Table 7 Colorful Accent 6"/>

<![endif]{sql_minus_minus}> <!{sql_minus_minus}[if gte mso 10]>
<![endif]{sql_minus_minus}>
Press Office