The special significance of the fact that our languages are closely related could be best demonstrated by how, as early as in the very first academic year in the history of Debreceni Magyar Királyi Tudományegyetem [verbatim: Royal Hungarian University of Debrecen] in 1914, the Faculty of Humanities offered a course on the Finnish language to those interested.
At the special open day, held on November 8, students and faculty joined forces to present the past, present, and future of Finland. Their presentations covered parts of the history of Finland as well as the sports-related, cultural, musical, and even gastronomical traditions of this Scandinavian country, while they also provided information concerning the most recently available chances to apply for scholarship opportunities to study and do research in Finland.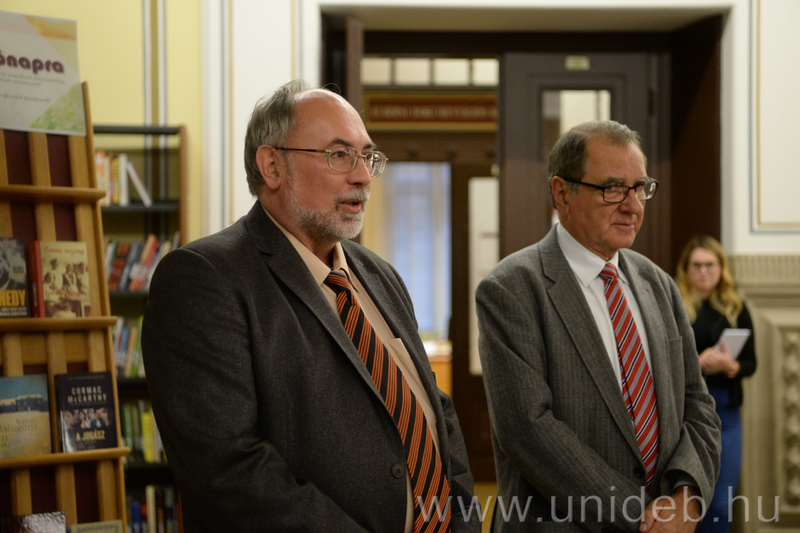 The University and National Library of UD hosted an exhibition of books connected to the centennial celebrations under the title "100 könyv Finnországból" [100 Books from Finland] in the vestibule of the check-out counter of the Library, comprising books that are also available in Hungarian.
"These 100 books represent the past 10 years and the work of 30 publishing houses and 30 literary translators. The collection of works of Finnish prose fiction and kids' literature has been compiled by Petőfi Irodalmi Múzeum [Petőfi Literary Museum], the Finnish Embassy, and the institute called Finnagora," said  Sándor Maticsák, the Head of the Department of Finno-Ugric Linguistics, about the peculiarities of the current temporary exhibition. 
"Apart from belonging to the same family of languages, the Finns and the Hungarians have been connected for more than a thousand years by similarities and even by differences. By similarities in language use and by differences, for example, in literature, the best known piece of which in Hungary is the epic titled Kalevala," said academician László Imre in his address delivered at the opening ceremony. Professor Imre, a Professor Emeritus of the Institute of Hungarian Literature and Culture, used to be a guest professor for a number of years at the University of Helsinki.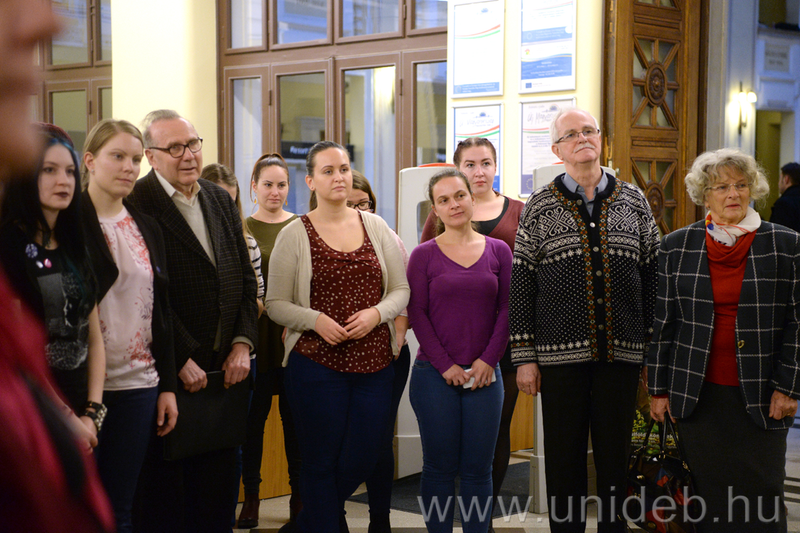 As a continuation of the memorial series of events, the Department of Finno-Ugric Linguistics hosted an international conference on the 8th and 9th of November in cooperation with the Embassy of Finland in Budapest.
<!{sql_minus_minus}[if gte mso 9]>


Normal
0


21


false
false
false

HU
X-NONE
X-NONE
























<![endif]{sql_minus_minus}>
<!{sql_minus_minus}[if gte mso 9]>

DefSemiHidden="false" DefQFormat="false" DefPriority="99"
LatentStyleCount="371">


UnhideWhenUsed="true" QFormat="true" Name="heading 2"/>
UnhideWhenUsed="true" QFormat="true" Name="heading 3"/>
UnhideWhenUsed="true" QFormat="true" Name="heading 4"/>
UnhideWhenUsed="true" QFormat="true" Name="heading 5"/>
UnhideWhenUsed="true" QFormat="true" Name="heading 6"/>
UnhideWhenUsed="true" QFormat="true" Name="heading 7"/>
UnhideWhenUsed="true" QFormat="true" Name="heading 8"/>
UnhideWhenUsed="true" QFormat="true" Name="heading 9"/>
Name="index 1"/>
Name="index 2"/>
Name="index 3"/>
Name="index 4"/>
Name="index 5"/>
Name="index 6"/>
Name="index 7"/>
Name="index 8"/>
Name="index 9"/>
UnhideWhenUsed="true" Name="toc 1"/>
UnhideWhenUsed="true" Name="toc 2"/>
UnhideWhenUsed="true" Name="toc 3"/>
UnhideWhenUsed="true" Name="toc 4"/>
UnhideWhenUsed="true" Name="toc 5"/>
UnhideWhenUsed="true" Name="toc 6"/>
UnhideWhenUsed="true" Name="toc 7"/>
UnhideWhenUsed="true" Name="toc 8"/>
UnhideWhenUsed="true" Name="toc 9"/>
Name="Normal Indent"/>
Name="footnote text"/>
Name="annotation text"/>
Name="header"/>
Name="footer"/>
Name="index heading"/>
UnhideWhenUsed="true" QFormat="true" Name="caption"/>
Name="table of figures"/>
Name="envelope address"/>
Name="envelope return"/>
Name="footnote reference"/>
Name="annotation reference"/>
Name="line number"/>
Name="page number"/>
Name="endnote reference"/>
Name="endnote text"/>
Name="table of authorities"/>
Name="macro"/>
Name="toa heading"/>
Name="List"/>
Name="List Bullet"/>
Name="List Number"/>
Name="List 2"/>
Name="List 3"/>
Name="List 4"/>
Name="List 5"/>
Name="List Bullet 2"/>
Name="List Bullet 3"/>
Name="List Bullet 4"/>
Name="List Bullet 5"/>
Name="List Number 2"/>
Name="List Number 3"/>
Name="List Number 4"/>
Name="List Number 5"/>

Name="Closing"/>
Name="Signature"/>
UnhideWhenUsed="true" Name="Default Paragraph Font"/>
Name="Body Text"/>
Name="Body Text Indent"/>
Name="List Continue"/>
Name="List Continue 2"/>
Name="List Continue 3"/>
Name="List Continue 4"/>
Name="List Continue 5"/>
Name="Message Header"/>

Name="Salutation"/>
Name="Date"/>
Name="Body Text First Indent"/>
Name="Body Text First Indent 2"/>
Name="Note Heading"/>
Name="Body Text 2"/>
Name="Body Text 3"/>
Name="Body Text Indent 2"/>
Name="Body Text Indent 3"/>
Name="Block Text"/>
Name="Hyperlink"/>
Name="FollowedHyperlink"/>


Name="Document Map"/>
Name="Plain Text"/>
Name="E-mail Signature"/>
Name="HTML Top of Form"/>
Name="HTML Bottom of Form"/>
Name="Normal (Web)"/>
Name="HTML Acronym"/>
Name="HTML Address"/>
Name="HTML Cite"/>
Name="HTML Code"/>
Name="HTML Definition"/>
Name="HTML Keyboard"/>
Name="HTML Preformatted"/>
Name="HTML Sample"/>
Name="HTML Typewriter"/>
Name="HTML Variable"/>
Name="Normal Table"/>
Name="annotation subject"/>
Name="No List"/>
Name="Outline List 1"/>
Name="Outline List 2"/>
Name="Outline List 3"/>
Name="Table Simple 1"/>
Name="Table Simple 2"/>
Name="Table Simple 3"/>
Name="Table Classic 1"/>
Name="Table Classic 2"/>
Name="Table Classic 3"/>
Name="Table Classic 4"/>
Name="Table Colorful 1"/>
Name="Table Colorful 2"/>
Name="Table Colorful 3"/>
Name="Table Columns 1"/>
Name="Table Columns 2"/>
Name="Table Columns 3"/>
Name="Table Columns 4"/>
Name="Table Columns 5"/>
Name="Table Grid 1"/>
Name="Table Grid 2"/>
Name="Table Grid 3"/>
Name="Table Grid 4"/>
Name="Table Grid 5"/>
Name="Table Grid 6"/>
Name="Table Grid 7"/>
Name="Table Grid 8"/>
Name="Table List 1"/>
Name="Table List 2"/>
Name="Table List 3"/>
Name="Table List 4"/>
Name="Table List 5"/>
Name="Table List 6"/>
Name="Table List 7"/>
Name="Table List 8"/>
Name="Table 3D effects 1"/>
Name="Table 3D effects 2"/>
Name="Table 3D effects 3"/>
Name="Table Contemporary"/>
Name="Table Elegant"/>
Name="Table Professional"/>
Name="Table Subtle 1"/>
Name="Table Subtle 2"/>
Name="Table Web 1"/>
Name="Table Web 2"/>
Name="Table Web 3"/>
Name="Balloon Text"/>

Name="Table Theme"/>























Name="List Paragraph"/>

Name="Intense Quote"/>














































































Name="Subtle Emphasis"/>
Name="Intense Emphasis"/>
Name="Subtle Reference"/>
Name="Intense Reference"/>

UnhideWhenUsed="true" Name="Bibliography"/>
UnhideWhenUsed="true" QFormat="true" Name="TOC Heading"/>













Name="Grid Table 1 Light Accent 1"/>




Name="Grid Table 6 Colorful Accent 1"/>
Name="Grid Table 7 Colorful Accent 1"/>
Name="Grid Table 1 Light Accent 2"/>




Name="Grid Table 6 Colorful Accent 2"/>
Name="Grid Table 7 Colorful Accent 2"/>
Name="Grid Table 1 Light Accent 3"/>




Name="Grid Table 6 Colorful Accent 3"/>
Name="Grid Table 7 Colorful Accent 3"/>
Name="Grid Table 1 Light Accent 4"/>




Name="Grid Table 6 Colorful Accent 4"/>
Name="Grid Table 7 Colorful Accent 4"/>
Name="Grid Table 1 Light Accent 5"/>




Name="Grid Table 6 Colorful Accent 5"/>
Name="Grid Table 7 Colorful Accent 5"/>
Name="Grid Table 1 Light Accent 6"/>




Name="Grid Table 6 Colorful Accent 6"/>
Name="Grid Table 7 Colorful Accent 6"/>







Name="List Table 1 Light Accent 1"/>




Name="List Table 6 Colorful Accent 1"/>
Name="List Table 7 Colorful Accent 1"/>
Name="List Table 1 Light Accent 2"/>




Name="List Table 6 Colorful Accent 2"/>
Name="List Table 7 Colorful Accent 2"/>
Name="List Table 1 Light Accent 3"/>




Name="List Table 6 Colorful Accent 3"/>
Name="List Table 7 Colorful Accent 3"/>
Name="List Table 1 Light Accent 4"/>




Name="List Table 6 Colorful Accent 4"/>
Name="List Table 7 Colorful Accent 4"/>
Name="List Table 1 Light Accent 5"/>




Name="List Table 6 Colorful Accent 5"/>
Name="List Table 7 Colorful Accent 5"/>
Name="List Table 1 Light Accent 6"/>




Name="List Table 6 Colorful Accent 6"/>
Name="List Table 7 Colorful Accent 6"/>

<![endif]{sql_minus_minus}> <!{sql_minus_minus}[if gte mso 10]>
<![endif]{sql_minus_minus}>
Press Office