In the Hungarian city of Eger, the company called Aventics Hungary Kft. will be hosting the race International Aventics Pneumobil Race for the tenth time between May 4 and 6, 2017. A regular participant from the very beginning, the Faculty of Engineering of the University of Debrecen will be among the entrants with two teams (named Főnix and Puff Air) this year.
"We have won this event several times, and we are currently ranked second on the basis of of our performance so far in the international university rankings," said György Juhász to the portal unideb.hu. An associate professor at the Department of Mechanical Engineering and a supervising instructor of Team Főnix, Dr. Juhász has told us about the competition for vehicles powered by compressed air that it is usually possible to enter the competition in the categories of long distance, arcade, and acceleration, the last one of which was won in 2016 by the Debrecen Team Puff Air.
The key to success this time, in addition to superb designing and mechanical efforts, might be the choice of drivers who are representatives of the fair sex, both for the pneumobils and the electromobile.
"This choice comes from technical as well as tactical considerations, as the ladies are known for their better maneuvering skills and they weigh only slightly more than the prescribed minimum of 50 kilograms," said Antal Tamás Varga, who let us in on a "professional secret," since he had participated in the preparatory efforts of the team while still a student, and continues to do so today as an instructor.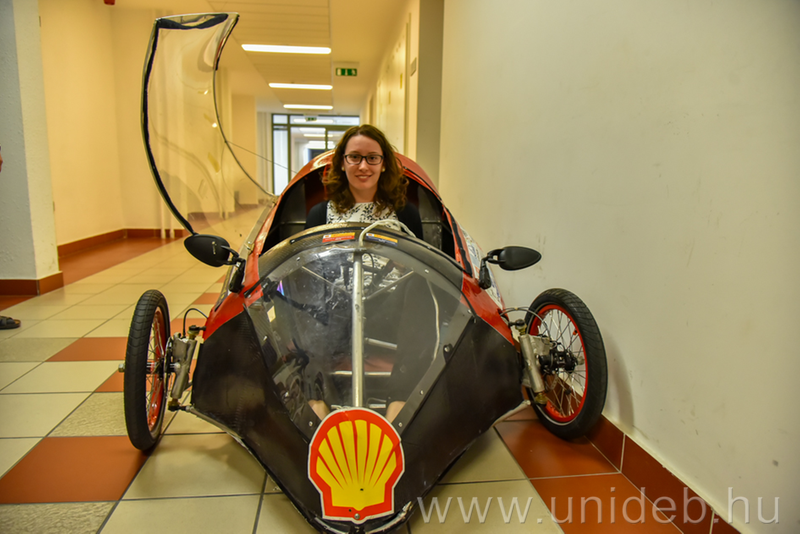 This is going to be the second time for the Faculty of Engineering to enter the contest called Shell Eco-marathon Europe, which is to be hosted by London between May 25 and 28.
"This worldwide competition is to probe the limits of energy efficiency, as the vehicle called Hugo can cover more than 100 km-s by using just one single kWh of energy. The same effort would require HUF 3 thousand worth of gasoline, while its costs is only HUF 35 for the electricity used," said Tamás Mankovits, the Head of the Department of Mechanical Engineering, while clarifying the most obvious advantage of alternatively powered vehicles.
 
The team supervisor, although he did not dare to make any specific predictions for, said he expected the team to end up somewhere in the upper-middle ranks. In the preparatory period of several months, there have been twenty students and instructors working together, representing almost the entire spectrum of programs offered at the Institute of Engineering, ranging from mechanical and mechatronic engineers and architects to students majoring in technical management.
Press Office