The University of Debrecen and the University of Physical Sciences will also cooperate in a joint research programme for the prevention of sudden cardiac death.
"Athletes differ from others in their physiology, but medical and pharmaceutical sciences have not yet combined forces with sports in order to deliver original Hungarian, tangible and significant discoveries and effective solutions not only for athletes but also the entire Hungarian society," emphasised Zoltán Szilvássy, rector of the University of Debrecen, at the press conference held after Monday's meeting at the Football Academy of Debrecen. He also added that the prevention of acute, life-threatening arrhythmia occurring while engaging in sports activities, as well as the joint development of the devices necessary for the accuate surveying and prediction of the illness are important areas of the cooperation.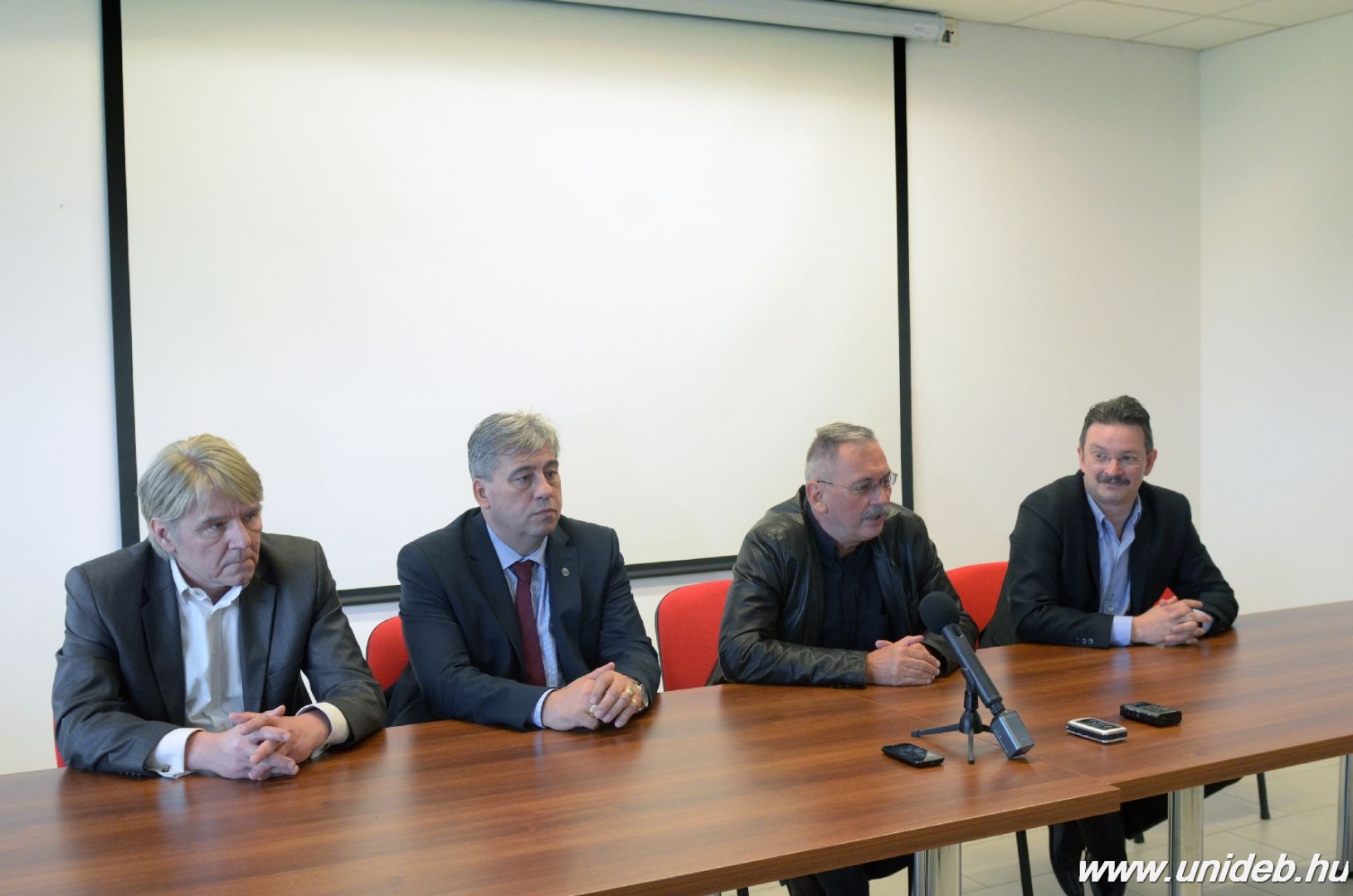 According to Lajos Mocsai, rector of the University of Physical Education, the joint work will lead to a new vision and new quality in scientific research, important areas of which include the enhancement of athlete's performance in sports in legal ways, as well as the improvement of style and quality of life.
"The University of Debrecen, with its own broad research spectrum, together with the University of Physical Sciences with a very thorough understanding of its narrower scope of scientific inquiry, will attempt to cover the entire cross-section of Hungarian sports, from public health aspects to issues concerning top athletes," Mocsai pointed out.
The rector also declared that they consider the development of the training of teachers, coaches and sport professionals, the examination of the cardiovascular system, research into the working and the activities of muscles, the role inherited and acquired skills in selection, as well as inquiries into mental areas as important fields of research.
This is the first initiative of similar nature in Hungary, which will mainly yield joint research projects in the field of sports health, as well as developments in the field of medical technology. Over the past 10 years, the University of Debrecen has consciously built up a system serving the development of sports sciences in the institution.
"Two years ago we committed to develop two new innovative areas in sports-related fields: the result is the sports economics and the sports engineer degree programmes. In the launching of these programmes, we have received a lot of help from the University of Physical Education and personally from Lajos Mocsai," said Zoltán Bács, chancellor of the University of Debrecen.
"The cooperation with the colleagues in Debrecen is also assisted by over 20 years of sports friendships and contacts between footballers," Ferenc Genzwein, chancellor of the University of Physical Education added.
The Budapest-based school is also planning to create an award in the field of sports innovation. The University of Debrecen will participate in the establishment and operation of the grant system as well.
Press Office