Constructors of the Faculty of Engineering at the University of Debrecen have gathered useful experience and would like to enter the London-based Shell Eco-marathon competition again next year.
The team of the University of Debrecen tested their skills for the first time at the international competition held during the first weekend of July in the capital city of Great Britain, where they competed in the category of prototype electric automobiles. In a crowd of more than two hundred student teams coming from twenty-nine different countries, the automobile of the Debrecen engineers was fine-tuned and refined even in the last minutes and already on the premises of the competition, due to which the team was successful in preparing their vehicle for the technical examination, as a result of which they could participate in the competition.
"On the competition course, an average speed of 25km/h had to be maintained for 43 minutes, using only 1 kwh of energy, which meant a total of eight laps altogether. The competition for us was not without any difficulties: once, our engine burned up, then the controlling unit heated up, and we also had a few problems with the running gear but, in the end, we managed to take care of all three malfunctions and complete a measured lap on the last day, when our automobile got to the finish line in time, and the result was that 101.8 km-s were covered by using just 1 kwh of energy," said team manager
András Gábora
.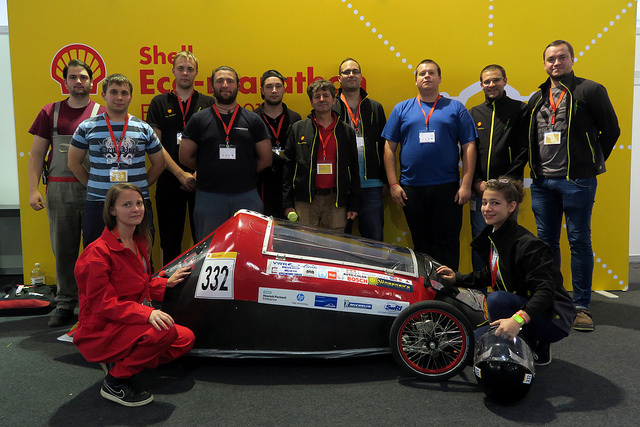 The instructor of the Faculty of Engineering added that it meant overwhelming happiness for them to not only enter a world-class competition of this magnitude for the first time but also to produce some measured and authenticated result as well. They could hardly even hope for this, since they had spent the last days prior to the competition continuously working on the proper preparation of the vehicle.
On behalf of the students who had participated in the project,
Attila Magyari
and
László Lemperger
both underlined that the success for the team had been due to teamwork and to how the technical staff members had pulled together.
Tamás Varga
added that the team members had seen quite a lot of unique vehicles and energy-efficient techniques at the competition, which they will probably be able to use and advance further in their own development strategy in the future.
The team of the Faculty of Engineering at the University of Debrecen is planning to enter the competition called Shell Eco-marathon in 2017, too, for which purpose they are going to design and build a new vehicle.
"The electromobile that we had prepared for the London event this year will go through some slight transformation and enter two events in the near future: the Budapest
MVM Futam
held in the fall, and the Eger
pneumobil
competition next spring," said
András Gábora
about the forthcoming challenges.
Press Office