The new, electronic patient bed used at the Orthepaedic Clinic of the University of Debrecen will make the lives of recently operated patients easier.
"The main advantage of this bed, in comparison with a normal hospital bed, is that the two shin supports are separately positionable and can also be turned 90 degrees to the side, and so it practically helps a mobility-impaired patient to sit up. In addition, it also has a desk with the use of which bed-bound patients can eat, read or work more comfortably, while a removable insert makes it easier to use a bedpan,"
Sándor Manó
lists the advantages of the new patient bed. According to the engineer of the Biomechanic Laboratory of the Orthopaedic Clinic, in addition to helping patients recovering from major surgeries and limited in their mobility, the bed can be used not only in hospital environments, but also makes the in-home healthcare of patients simpler.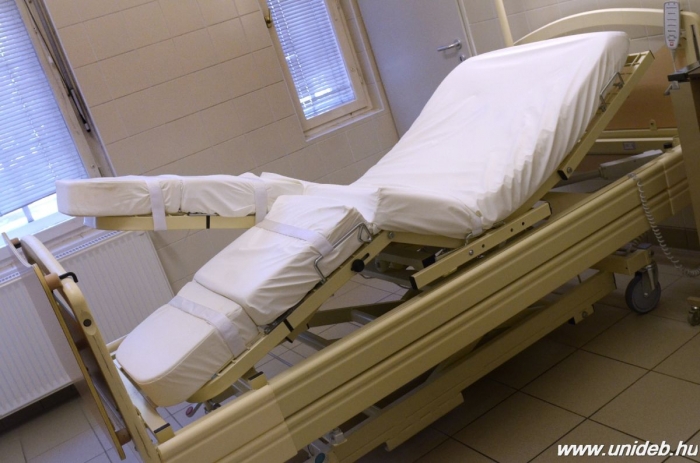 The Orthopaedic Clinic of the University of Debrecen participated as a consortium partner in a project using funding from the Economic Development Operational Programme, as a result of which 10 prototypes of the modern patient bed were made. The institute received five of those for its own use. The prototype was developed on the basis of the idea of
Zoltán Csernátony
, the director of the clinic, jointly with ASS Bt., a company in Makó.
Several developments making the lives of patients easier have originated from the Biomechanic Laboratory, located in the basement of the Orthopaedic Clinic. In order for patients who underwent surgery of the lower limbs to have a sense of how much they can burden their recently operated legs, the lab developed special shoes that provide feedback. With the 3D printers operating in the lab, surgeries become easier to plan, and it is now possible to create unique, customized, bone-replacing implants. In addition to implants used in orthopaedic surgery, they also make skull-replacement implants for neurosurgeons. In addition, the accredited Biomechanical Material Testing Laboratory of the institute can also issue official measurement data and protocols, which are accepted everywhere in Europe. This is necessary, for example, when the load-bearing capacity of a new implant made of titanium or some other biocompatible material needs to be examined.
Further pictures are available in the
photo album
.
Press Office