An article written by
Mónika Fuxreiter
, a researcher at the University of Debrecen, has been published recently in
Cell
, the most prestigious American journal on biochemistry.
Mónika Fuxreiter
, associate professor of the Institute of Biochemistry and Molecular Biology at UD considers the article "The Structure and Dynamics of Higher-Order Assemblies: Amyloids, Signalosomes, and Granules" which came out in the May 2016 issue of
Cell
to be the climax of her career so far.
"What is common in the disease of the world-famous British physicist
Steven Hawking
, in the stress response of a healthy organism, and the protection against virus attacks? In each one of these cases, there are assemblies and organelles of diverse and varying composition and structure formed through the combination of high numbers of protein molecules. In these, any slight reaction to environmental effects can be the prompt for irreversible processes leading to diseases," said the head of
MTA-DE Lendület Fehérjedinamikai Kutatócsoport
[Momentum Protein Dynamics Research Team of the Hungarian Academy of Sciences and the University of Debrecen].
Mónika Fuxreiter
reckons that the way higher-order assemblies of proteins can be described in detail structurally is a very exciting question. Due to their size, shifting compositions, and heterogeneous structures, the examination of these systems represents a tough challenge to researchers. However, from the aspect of pharmaceutical research, it seems to be of crucial significance to explore the exact structural mechanism of the development of these protein combinations.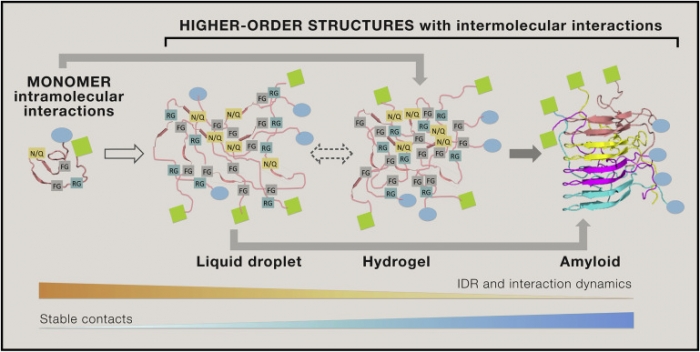 The paper that appeared in
Cell
investigates if there are common features in various protein assemblies and what sorts of molecular factors would be responsible for regulating these complexes.
As a theoretical researcher,
Mónika Fuxreiter
has worked on analyzing fuzzy structure proteins for the past ten years. This recent paper crowns her decade-long efforts to research this topic although, as she says, she hopes that this is not the end of the line yet. Her objective is to find further answers to specific queries in a 5-to-10-year stretch of research which might prove useful for the pharmaceutical industry in developing therapies for either Alzheimer's or Parkinson's diseases.
Find the summary of the paper in Hungarian at
this link
.
Access the original article in the May issue of the journal
Cell
here
.
HAS/Press Office