"Time is the most important factor in the case of strokes and cardiac arrests because saving time might mean saving brain or cardiac muscle cells," was one of the conclusions reached at the Emergency Medical Services Forum held in Debrecen.
"Emergency Medical Services (EMS) is a multidisciplinary field based on the cooperation of several subfields of medicine combining the efforts of paramedics and pediatricians as well as internal specialists. To make sure that prehospital emergency care should be as fast as possible is the responsibility of the National Ambulance Service, while efficient institutional care is dependent on the cooperation of ER units and the representatives of the related medical fields," said
Zoltán Szabó
, Head of Emergency Medical Services at the Department of Internal Medicine of the University of Debrecen, in his address delivered at the Friday press conference held by Emergency Medical Services Forum II.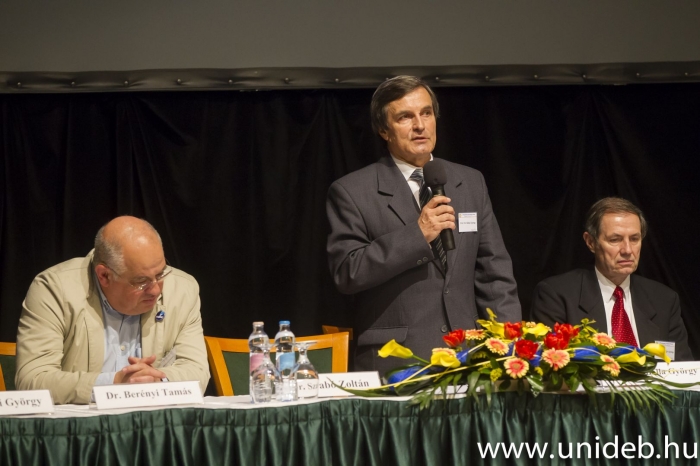 The roughly two hundred participants at this conference, held in
Kölcsey
Convention Center between 13 and 14 May, 2016, in Debrecen, are to survey and discuss the issue of emergency medical care provided to patients with heart and cardiovascular disease symptoms, the most problematic area of the related fields.
"Thanks to the efficient service organization, the fatality rate in the area of stroke and cardiovascular diseases could be decreased in Debrecen and Hajdú-Bihar County by 35 to 40% compared to the national figure in the past few years. This should be the case in other parts of Hungary, too, for which reason a new concept is being developed with the participation of
Országos Mentőszolgálat (OMSZ)
[National Ambulance Service] in which the location of the stroke centers and access to them is designed in such a way that it could take the shortest time for patients to get into a hospital care unit. Stage zero of the proposed protocol is dialing 104 and 112, i.e., placing an immediate call for an ambulance," said
György Pápai
, Regional Director of
OMSZ
.
György Balla, Director of a Debreceni Egyetem Gyermekgyógyászati Intézet [Institute of Pediatrics at the University of Debrecen] added that emergency medical service in Debrecen stands on two "legs" so to speak: on Kenézy Kórház [Kenézy Hospital] and on Klinikai Központ [Clinical Center]. In order to make sure that this special field could function as smoothly as possible, he would think in terms of a large unified and complex emergency clinic that would include the EMS units both for children and adults. According to the current plans, a new level-three Children's Emergency Medical Service Center would be completed in the Clinical Center of UD between 2018 and 2020, which would incorporate sections of pediatric surgery, trauma, and radiology as well as general pediatrics and diagnostics.
Press Office