An instrument of their own design was presented by electronics engineering students from the University of Debrecen on February 12 at the event called NI Big Physics Summit.
The presentation was given to an audience of scientists and industrial experts about the instrument development findings of the student research group represented by two third-year students from the Department of Electrical and Electronic Engineering at the University of Debrecen,
Balázs Nagy
and
Máté Patalenszki
, whose trip to CERN was sponsored by
NI Hungary Kft
.
The special instrument designed for temperature measurement will be used for testing magnets applied and under development in CERN's Large Hadron Collider. In their presentation titled "Magnet Temperature Measurement LHC," the two young scientists elaborated on the structure of the fully automated computer-controlled wireless instrument, the phases of its development, and the software used to operate the instrument.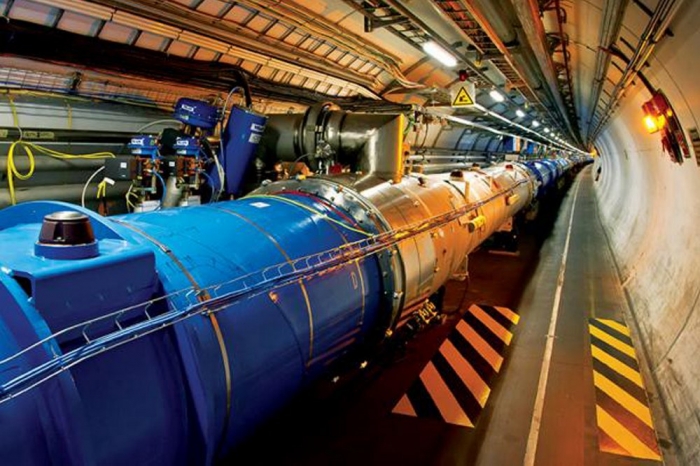 The uniqueness of this new instrument lies in its ability to measure the internal and external temperatures of giant magnets at 20 different points between -271 and +50 °C through the application of several measurement methods. The hardware and software backgrounds for the instrument have been provided by courtesy of the company National Instruments, allowing the young researchers to integrate spare parts of CERN and the circuits of their own design into one of the most advanced systems (PXI) developed by NI.
The project has also been supported and hosted by the Open Laboratory initiative available at the Debrecen site of National Instruments, where the students have had a chance to learn about and test the measuring devices created by the company. In addition, the team at Open Laboratory provided professional help and advice in selecting the appropriate tools and preparing the relevant software. At present, preliminary tests are is being conducted on the instrument, and it is expected to be taken by the students to CERN for the actual primary tests in live operation to be completed in April.
Access the presentation at the
CERN website
.
Press Office