The research findings of Sir Stephen O'Rahilly, this year's awardee of the annual Debrecen Award for Molecular Medicine, can contribute to the advancement of patient care in the treatment of obesity, insuline resistance, and diabetes.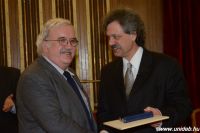 Sir Stephen Patrick O'Rahilly, the recipient of the 2014 Debrecen Award for Molecular Medicine, was born and raised in Ireland. He has undertaken research at the University of Oxford and Harvard Medical School. The current director of MRC Metabolic Diseases Unit in Cambridge, Professor O'Rahilly was selected to receive the prestigious award by a panel comprising the full professors of the Faculty of Medicine of the University of Debrecen.
Professor O'Rahilly is primarily known for his research into the human metabolic and endocrine disorders. In addition to mapping the related pathomechanisms, he also utilizes his research findings in the prevention, diagnosis, and a more efficient therapy of these diseases. Through human genetic studies and investigations, he has discovered several specific genes and pathways controlled by them in the fields of treating obesity, insulin resistance, and type 2 diabetes. He is also recognized for having been the first clinical scientist to conduct a successful therapy with recombinant leptin, the hormone responsible for controlling appetite and the energy levels of the human organism.
He is a genuine clinical research scientist, whose work includes the observation of specific phenomena during patient care as well as that of the symptoms of genetic mutations responsible for the global epidemic of obesity.
Stephen O'Rahilly was knighted in the 2013 Birthday Honours by Queen Elizabeth II for services to medical research. In the UK, he is a member of the Royal Society and the Academy of Medical Sciences, while in the USA, he is a Foreign Associate of the National Academy. In Europe, he is one of the leading life scientists recognized by election to the European Molecular Biology Organization.
The University of Debrecen established the international prize "Debrecen Award for Molecular Medicine" in 2003. The annually awarded amount of 10,000 Euros and the memorial plaque are to provide due recognition to a scientist, or a group of scientists, whose work has significantly contributed to the development of molecular medicine with demonstrated benefits applied to improved patient care.
Press Office